Is your hotel ready to re-open post Covid 19?
As talk of the "new normal" continues and as we discuss re-opening the economy in a phased approach, everybody within the hospitality industry needs to start thinking about how new rules will be implemented in our ecosystem.
What we know is that some hotels will not reopen, while others may open briefly only to buckle under the weight of the new and challenging landscape.  By the same token, some hotels under development will not ever open. Do you see opportunity or demise?  You can find a solution as you read this article.
The key to not falling victim to the new economy for lack of a solid and healthy ramp up is a solid sales plan.  Lets first address ramp up times.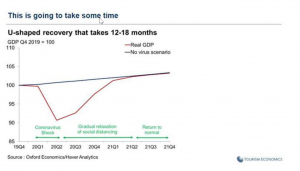 Granted, all of this depends upon how rapidly COVID-19 tests become available, which will vary depending upon the region and its governor. More rural, less dense markets like those in the Midwest will re-open first. Proposed guidelines from the Federal Government are listed here https://assets.documentcloud.org/documents/6840739/Guidelines-PDF.pdf
Following the recently-released guidelines of the fitness industry in northern Utah, and confirmed by the International Franchise Association, as well as President Trump's Three-Phased approach proposal, we must anticipate how the "new normal" could be possible in the hotel environment at the present time. All of us should think about how we can adapt and/or re-invent the way we do business. Below are some of the preliminary restrictions:
Management should ensure, on a daily basis and at the beginning of each shift, that no employee who presents symptoms consistent with COVID-19 (such as fever, chills, cough, sneezing with nasal discharge, shortness of breath) will be permitted to work.
Employees who appear to have any symptoms upon arrival to work or during the work day should be sent home immediately.
Patrons should be screened by phone and/or in-person prior to entering the establishment, and should not be allowed to enter if any of the symptoms listed above are present.
Management should only allow 1 individual per 100 square feet and ensure at least 10 feet of separation in all directions between patrons.
No team or group activities should be allowed, tatherings of no more than 10 people.
Locker rooms and showers should not be used. Use of toilets, urinals, and sinks is allowed.
No sign-in sheets or touch pads should be required for entry.
It is strongly recommended that individuals over the age of 60 or who are immuno-compromised not use the facility.
It is strongly recommended that all employees and patrons wear a non-surgical mask or face covering that completely covers the nose and mouth whenever possible.
Our industry is greatly dependent upon person-to-person contact, and many questions have been posed. For example: How will we check in our guests in a manner that does not require touch? Some brands have a check-in app, some don't.
How will we convert our meeting and function spaces to serve as restaurants in order to accommodate the 10-foot rule? Due to Capacity Control, a 60-seat restaurant will now only accommodate 30 to 40 seats maximum. Are we staffed for delivery and pick-up?
Just as we have changed our work-style in order to accommodate to the "new normal", consumer habits and preferences have changed as well. Staycation industries will experience a spike in revenue, while gatherings in close contact industries will not. As consumers are becoming ever more dependent upon technology, virtual interaction will impact business travel. The speed, depth, and uniformity of recovery will not be uniform for every market. Supply chain, staffing and service standards will be impacted, and un-budgeted reopening costs will be high.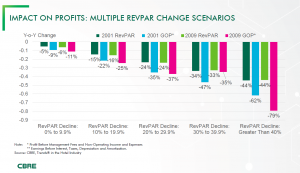 Even with PPP, staff may not return due to generous unemployment benefits, or a competitive market may increase payroll costs. Hotel owners must communicate with staff now in order to determine replacement staffing requirements as well as factor in expected demand curve. Along with this, training infrastructure will most likely be insufficient to train new staff directly. How will we approach the re-opening? Will it be a soft opening?  Will we conduct virtual training sessions?  Will the General Manager or HR team be assigned to "train the trainer", knowing that we may not be able to bring back previous leaders?
Moving on from the topic of staffing to service standards: how will the disruption in the supply chain back to farmer and manufacturer affect us? Will we need to consider alternative products?  Will we need to consider limited or alternative temporary Menus? How will we incorporate social distancing rules into room service and front desk? Will we look into local sourcing alternatives? How will this affect our bottom line? Have we begun discussing pre-order and options available with your suppliers, in anticipation of the re-opening?  Will we develop temporary manuals, signifying an intent to return to standards in the near future? These are all questions we must keep in mind as we move forward. Please find some additional information here to hopefully spur some additional thoughts. https://www.ahla.com/sites/default/files/member_faqs_operations_1.pdf
Although some parts of the future remain a mystery, it is evident that short term flexibility is and will continue to be absolutely vital as we move forward. Allowing existing staff to wield some additional authority may limit stress. We must be decisive about how we will handle outbound communication to our guests, and have a clear message to deliver to them. Vague communications can inflict worse damage to the top line than the crisis itself. If executed correctly, we will leave a positive impression on not only our guests, but on our staff as well. As guests are not being met by hoteliers in the lobby, it is essential that hoteliers meet their guests online with clear and concise news, guidelines, and policies. The need for sufficient and well-managed communication will continue even after the effects of the Coronavirus have ebbed.
We are unsure as to when exactly we might be able to operate as we have in the past, therefore it is crucial remain relevant in the eyes of the consumer, and we must handle all future sales and outbound solicitation efforts tactfully in order to build a firm base for when transient demands return. Handling these issues properly will no doubt lead to revenue growth at the crisis' end.
Are you coming out of this on top, or will you succumb to the new normal as you try to ramp up just like you have time and time again?  Do you reach into your hard-drive and dust off an old presentation and a few communications you may have left over from H1N1 or the last recession? Will you re-hire your sales manager to call on the North East to start getting a good pipeline of future business? This just won't work.  This time it's different.  Here's what we know: after earning zero revenue while paying bills for months, as well as your capx loans, you will be slow to ramp up.  Other hotels and destinations will get ahead of you, and you will lose the possibility of grabbing a much smaller piece of the market share pie. There will be no need for STR Reports because you will not be competitive. Valorem Group can help you with incredible Sales Extension and Sales & Revenue Optimization teams that will cost you a fraction of your off staffing costs.  Call us today at 786 325 2222 to learn how we can help you get back in the game.